Add a fun, competitive twist to your golfing routine by joining our golf leagues at Crosswinds Golf Club in Plymouth, Massachusetts. We're dedicated to providing a golfing experience that combines fun, social interaction, and quality golfing on our exceptional course. No matter your skill level, you'll find a welcoming community and a love for the game that matches your own right here at Crosswinds.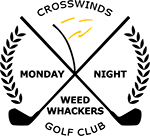 Monday Night
Weed Whackers
Men's Golf League
League Tee Times start every Monday after 3PM
with food served at the conclusion of your round.
Let us know if you're interested in participating and what you would like to see. Contact the Pro Shop at (508) 830-1199 or email us at leagues@golfcrosswinds.com