CROSSWINDS CLUB PROFESSIONAL MICHAEL COSTA
Michael is starting his second year at Crosswinds Golf Club. Michael has worked for some of the finest teachers before coming to Crosswinds. Michael played four years of collegiate golf at Nichols College.

Michael's patience and enthusiasm brings a positive attitude to the lesson tee.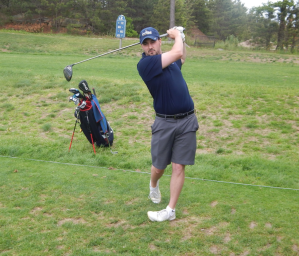 Learning Programs for 2019
Private lessons is the most effective means of improving a golfer's game. Private lessons are an ideal way to establish a long term learning relationship with one instructor.
Take Your Game to The Next Level
For the golfer who has playing experience, but has reached a plateau. This is a very flexible program which can be tailored to your specific needs. The lesson agenda is designed specifically for you, and is available to individuals only.
New Golfers
For those who have never played or had professional instruction. Learn the basics of the game in a fun atmosphere.
Customized Group Lessons
This is typically a four week program. One hour per week. Your group can pick the day and time. Michael will be happy to build a program to fit the group.
Rates
Private lessons:
1/2 hour – $40.00
1 hour – $60.00
Series of four half hour lessons – $130.00
Groups (1 hour minimum)
Group of 2: $40.00/ea
Group of 3: $30.00/ea
Group of 4: $20.00/ea
Individual Junior Lessons
1/2 hour: $30
1 hour: $50
-Series of four half hour lessons: $100
Junior classes are designed specifically to introduce golf to young people. Learning to play golf should be fun and that's what this program is all about. Michael is great with young/beginner golfers, and encourages young golfers to reach their full potential. Sign up for one of our individual classes, or arrange a group of your own.
Groups Junior Lessons (1 hour minimum)
Group of 2: $30
Group of 3: $25
Group of 4: $20